We are committed to building a healthier ocean environment.
Courses for students, organizations, and special groups. Learn about dolphins and other marine mammals, aquatic ecosystems, including mangroves and coral reefs, and the importance of marine conservation.
Internships and practicums available for students studying special education, therapy modalities, behavior management, animal science, veterinary technology, and marine sciences.
All research performed at IDC is approved by a scientific committee. Please contact us to learn more about the research opportunities that are available.
Plan a customized field trip for your group or organization, or come in for a private or group tour.
If you have questions, suggestions, or ideas about our education and research programs, please do not hesitate to reach out. We look forward to hearing from you.

The marine science programs have life changing impact and bring so much awareness… such a great organization doing great things."
- Royal Caribbean Cruises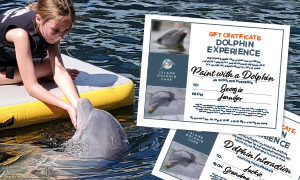 Give the gift of a Dolphin Experience Gift Certificate, or purchase a gift card for any amount!

Mon-Fri 8AM-5PM
Sat-Sun 10AM-4PM