"We all left the facility crying from experiencing so much love and hope. The compassion and healing that the therapists and the staff provided to our entire family were insurmountable."
"Our daughter has Autism Spectrum Disorder and after 5 days we see her more calm, cooperative, without frustration or depression, more oriented and happier. No words can express our enormous gratitude."
"An infinite THANK YOU to the donors who made our daughter's participation possible…. It was a healing experience for our entire family…. It's like we came upon an Institution of Hope…"
"It was so difficult to say goodbye…. The staff engaged our family with such care…. To anchor so deeply in our hearts in such a short period of time is something I can barely even comprehend."
"We are back home wishing we could still be with you all…. We've returned 11 times now and it just keeps getting better and better!!"
"My daughter is nonverbal, has severe Autism and struggles with OCD and anxiety… and I cannot say enough about what this program has achieved, and the progress I see each year."
"We are honored to be a part of this supportive family and love and adore all of you!"
"… a magical place where they make you feel warm and welcomed."
"Our autistic son Levi was able to paint with his hands, play with shaving cream, and do many other activities I had no idea he could do. But I had never seen him engage in anything like he did with the dolphins, which of course, was his favorite part. He broke out of his shell with laughter every time they came around. This is truly an amazing program that we highly recommend for those who struggle with any disability."
"Magical. I could happily be here all day every day watching the dolphins play. And the staff is wonderful…. It's amazing how they help people with disabilities, honestly… I can't recommend it enough."
"I had the pleasure and honor of interning at Island Dolphin Care as a special education teacher, and I have never felt so inspired and hopeful. Island Dolphin Care is truly a magical place full of laughter and love."
-Special Education Teacher/Intern
"All the stress, all the anger is somehow taken away in an instant. These majestic creatures open the door to your heart and for a few moments it's like they come in there and make you forget all the negative in your life. Thank you so much for sharing this experience with me."
"We had a great time visiting Island Dolphin care. The people were very accommodating and made adjustments for my son's need. My son got to feed the dolphins as well as pet them and then watched them wave to us. We had a great time and will come back another year."
"Incredible cause and staff. I went for a tour while spending a night in Key Largo and was amazed at the facilities and staff they had. It's truly an incredible story of animal therapy, and providing a service that can change lives and at the very least provide a super positive experience for a client and their family. The tour itself was very laid back and free flowing. Very knowledgeable tour guide who was candid and encouraged questions for her and the staff. We will definitely return and will be sharing the story."
"Our group of 17 adults from a neighboring complex had a wonderful learning experience. Some were aware of IDC's basic mission but were amazed at the recently added programs and facility improvements. It was especially fun to see the dolphins' feeding-time antics. This non-profit provides a service to those with disabilities and illnesses bringing joy and communication progress into theirs and their family members lives. Please support it in any way you can!!"
"Island Dolphin Care is an amazing facility! The expertise, knowledge and care of the staff is unprecedented. They run such a unique program that benefits so many children and adults. It's mindboggling and heartwarming what they have been able to do for those families. I highly recommend them!"
"Love it! Got to share an awesome day with my son and his classmates! Such professional staff members with huge hearts! Thank you for making King's day!"
"One of the most incredible family bonding experiences you will ever experience"
"It is by far the most memorable day ever. My daughter enjoyed every minute of her day. She overcame her fears and was able to swim and learned so many new details about marine life. The staff is amazing and dedicated–we couldn't ask for more. Thanks so much."
"Was an intern with IDC for 6 weeks and loved every day of it! Faculty are kind, fun, and professional. During my time there, I saw too many smiles to count from all involved! Please consider coming here for a wonderful time!"
"Getting up close & personal with these beautiful gentle creatures is an experience that everyone should get to have in their lives. I had SO much fun interacting with these sweet dolphins. Thank you, Island Dolphin Care, for such an uplifting experience!"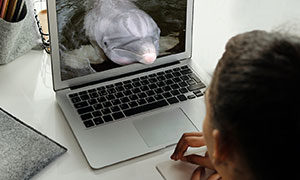 Virtual Dolphin Visits! Bringing the joy of spending time with the IDC dolphin pod to you.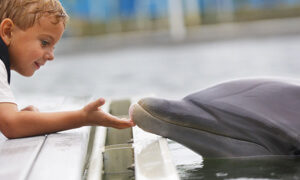 Support our dolphin family and our programs by making a donation.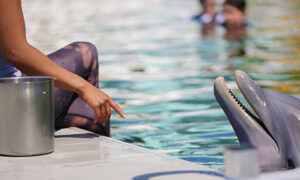 You can make a real positive impact just by leaving us a review.

Due to COVID, IDC is unavailable for in-person visitors. Virtual visits are available. Please email danielle@idckeylargo.org to reserve yours.
Mon-Fri 8AM-5PM
Sat-Sun 10AM-4PM