The best way to fully understand our mission and vision is to meet us in person. Your time with us supports a number of life-changing therapy programs as well as the care of the IDC dolphin family.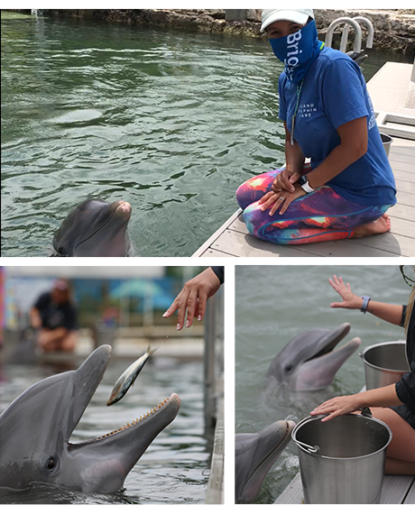 PLEASE DONATE –
IDC NEEDS YOUR HELP
Since 1997, our staff and dolphins have been providing therapy programs and marine science education to school groups, individuals, families, and all people needing our help.
WE ARE TEMPORARILY CLOSED
This measure is to keep us safe and to assist in stopping the spread of COVID-19 to the best of our ability.
KEEPING OUR DOLPHINS
& STAFF SAFE
Our staff is working daily providing our dolphin family with the best of care. Your help now will provide necessary funds to get through this difficult time.
PLEASE DONATE WHAT YOU CAN
It would mean so much to us!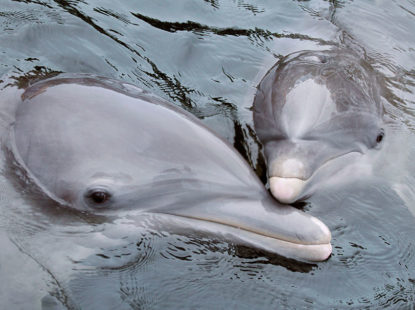 WE APPRECIATE YOUR GENEROSITY
Thank you for understanding. We are all grateful for your support and can't wait to see you again! Please stay safe, wear masks, and keep washing your hands.  We continue to provide virtual therapy programs and happy video greetings. Check back with us again soon to learn about other virtual educational interactions and classes in development.
Sending Love,
The IDC Team

COVID-19 Update:
Our facilities are currently closed to the public
Upon re-opening, public interactions and tours will be by reservation only.
ALL PROGRAMS ARE BASED ON AVAILABILITY & SOCIAL DISTANCING RECOMMENDATIONS
To ensure the safety of all staff, dolphins, and visitors:IDC is following all guidelines set forth by the CDC in response to COVID-19.
THINGS YOU SHOULD KNOW BEFORE VISITING
We are an organization that cares for people with underlying conditions. In order to keep everyone as safe as possible:
Temperature screenings are required

Face coverings are required in all areas

Some experiences may be modified to allow for a physical distancing and limit contacts between individuals and staff
To enter you must have a reservation

You will be required to complete a questionnaire

You must follow our posted instructions

You are voluntarily assuming all risk related to exposure to COVID-19

Island Dolphin Care is a not-for-profit organization seeking solutions for children and families with special needs as well as veterans living with PTSD. Funded entirely by grants, donors, and visitors, our programs set the foundation for a reciprocal dolphin-to-human relationship and support the best quality of life for all involved.
We ethically and thoughtfully care for eight bottlenose dolphins living in ocean water at our facility. We are taking the first steps to finding a solution for the future of marine mammals that cannot survive in the wild.
While valuing and respecting our marine mammals and their environment, our goal is to provide unique, animal-assisted therapy programs for people with differing abilities and needs and their families, allowing them to maximize their strengths and achieve their goals.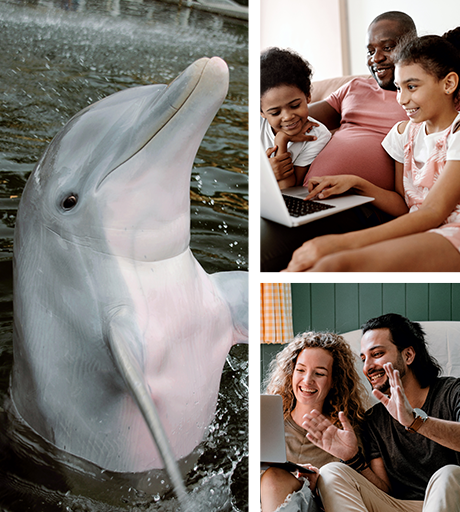 Reach out for more information about booking or gifting a virtual dolphin visit through Zoom
Each experience is individualized based on the interests of the participants. You can even invite family and friends to join in on the fun!
Interactions last 10-12 minutes

Educational, up-close look into a dolphin training session

Questions welcome

Observe multiple dolphin behaviors (waves, jumps, vocalizations)

Assist with training session by learning hand signals that are used to communicate with the dolphins

Learn about dolphin anatomy and healthcare
Check out IDC's Sensory Activity Library! 
Donate and support IDC's not-for-profit programs.
By making a donation, you are:
Helping people facing difficult times

Ethically providing for 8 bottlenose dolphins

Promoting conservation awareness

Supporting marine science education
Ways You Can Experience Island Dolphin Care
An experience like no other. Interact with our dolphins under the direction of our professional therapists and animal care specialists.   
Contact us with your questions about our programs, dolphins, and conservation efforts.

One of the most incredible family bonding experiences you will ever experience"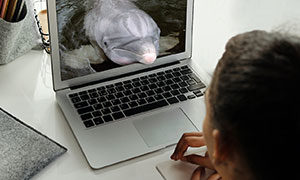 Virtual Dolphin Visits! Bringing the joy of spending time with the IDC dolphin pod to you.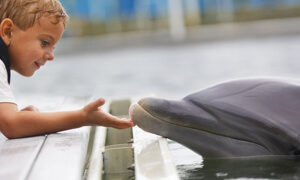 Support our dolphin family and our programs by making a donation.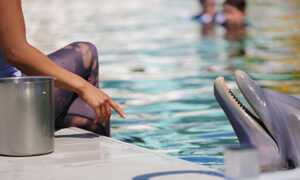 You can make a real positive impact just by leaving us a review.

Due to COVID, IDC is unavailable for in-person visitors. Virtual visits are available. Please email danielle@idckeylargo.org to reserve yours.
Mon-Fri 8AM-5PM
Sat-Sun 10AM-4PM