The best way to fully understand our mission and vision is to meet us in person. Your time with us supports a number of life-changing therapy programs as well as the care of the IDC dolphin family.

The health and safety for our community, visitors to our facility,  staff, and dolphins are our greatest priority.
Due to the increased spread of the COVID-19 virus we have made the difficult decision to temporarily close our doors to the general public. This is a voluntary decision and we want to assure you that we are all safe.
This measure is to keep us safe and to assist in stopping the spread of COVID-19 to the best of our ability.
We continue to provide virtual visits, and virtual dolphin telegrams by donation. Our therapy programs continue on a limited basis and by appointment only. Check back with us frequently as we plan to reopen as soon as possible.
We hope you will all understand, wear masks and stay safe wherever you go. Please consider supporting IDC by making a donation if you are able. Every donation up to $75,000 will be matched dollar for dollar by the Pat Moran Family Foundation, The McNally Family Foundation, & The Wanda & Jim Moran Jr. Family Foundation.
During this time, you can support IDC's virtual and Covid frontline workers programs by making a donation.
All of us at IDC are grateful for your support and understanding.
Sending Love, 
Deena Hoagland, 
Founder, Island Dolphin Care

COVID-19 Update:
Our facilities are currently closed to the public
Upon re-opening, public interactions and tours will be by reservation only.
ALL PROGRAMS ARE BASED ON AVAILABILITY & SOCIAL DISTANCING RECOMMENDATIONS
To ensure the safety of all staff, dolphins, and visitors:IDC is following all guidelines set forth by the CDC in response to COVID-19.
THINGS YOU SHOULD KNOW BEFORE VISITING
We are an organization that cares for people with underlying conditions. In order to keep everyone as safe as possible:
Temperature screenings are required

Face coverings are required in all areas

Some experiences may be modified to allow for a physical distancing and limit contacts between individuals and staff
To enter you must have a reservation

You will be required to complete a questionnaire

You must follow our posted instructions

You are voluntarily assuming all risk related to exposure to COVID-19

Island Dolphin Care is a not-for-profit organization seeking solutions for children and families with special needs as well as veterans living with PTSD. Funded entirely by grants, donors, and visitors, our programs set the foundation for a reciprocal dolphin-to-human relationship and support the best quality of life for all involved.
We ethically and thoughtfully care for eight bottlenose dolphins living in ocean water at our facility. We are taking the first steps to finding a solution for the future of marine mammals that cannot survive in the wild.
While valuing and respecting our marine mammals and their environment, our goal is to provide unique, animal-assisted therapy programs for people with differing abilities and needs and their families, allowing them to maximize their strengths and achieve their goals.
Donate and support IDC's not-for-profit programs.
By making a donation, you are:
Helping people facing difficult times

Ethically providing for 8 bottlenose dolphins

Promoting conservation awareness

Supporting marine science education
Check out IDC's Sensory Activity Library! 
Ways You Can Experience Island Dolphin Care
An experience like no other. Interact with our dolphins under the direction of our professional therapists and animal care specialists.   
Contact us with your questions about our programs, dolphins, and conservation efforts.

One of the most incredible family bonding experiences you will ever experience"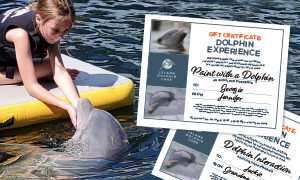 Give the gift of a Dolphin Experience Gift Certificate, or purchase a gift card for any amount!
Mon-Fri 8AM-5PM
Sat-Sun 10AM-4PM