The best way to fully understand our mission and vision is to meet us in person. Your time with us supports a number of life-changing therapy programs as well as the care of the IDC dolphin family.

While we will continue to monitor the developing COVID-19 situation, we have made the difficult decision to postpone all of our therapy, education, and experience programs. This decision was extremely tough, but it will allow us to protect and ensure the health, safety, and well-being of our clients, staff, and dolphins.
If you had a program that was canceled due to the COVID-19 outbreak, call us at 305.451.5884 or email us at photos@idckeylargo.org to reschedule your reservation.
If you would like to support us during this time, Amazon will donate a portion of your Amazon purchases to us at no additional charge to you. All you have to do is visit smile.amazon.com, sign in using your existing Amazon account, and choose Island Dolphin Care.
Now more than ever, your support is very appreciated.

Island Dolphin Care is a not-for-profit organization seeking life-changing solutions for children and families with special needs as well as veterans living with PTSD. Funded entirely by grants, donors, and visitors, IDC is a place where people facing challenges come to experience joy and thrive!
By booking an experience with us, you are supporting dolphin-assisted therapeutic programs that impact lives, while bringing purpose to the family of dolphins in our care and creating a foundation for research and advocacy for dolphins and ocean conservation.
We ethically and thoughtfully care for 8 bottlenose dolphins at our facility. Sarah and Squirt, our two oldest dolphins were acquired from a different facility when IDC first began, and the 6 others are their children and were born here.
Our goal is to provide unique animal-assisted therapy programs for people with special needs and their families, allowing them to maximize their strengths and achieve their goals, while valuing and respecting our marine mammals and their environment.
Donate and support IDC's not-for-profit programs.
By making a donation, you are:
Helping people facing difficult times

Ethically providing for 8 bottlenose dolphins

Promoting conservation awareness

Supporting marine science education
Check out IDC's Sensory Activity Library! 
Ways You Can Experience Island Dolphin Care
An experience like no other. Interact with our dolphins under the direction of our professional therapists and animal care specialists.   
Contact us with your questions about our programs, dolphins, and conservation efforts.

One of the most incredible family bonding experiences you will ever experience"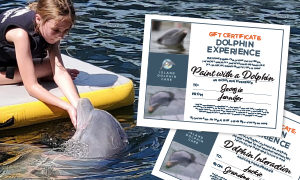 Give the gift of a Dolphin Experience Gift Certificate, or purchase a gift card for any amount!

Mon-Fri 8AM-5PM
Sat-Sun 10AM-4PM