Fill out the form below, select your area of interest, and include any additional comments you might have. We will respond as soon as possible.
These are just a few of the highlights you will enjoy during your visit with us.

This program offered hope for my family. These people opened their arms and welcomed us into a safe haven to just be carefree and happy. The dolphins honored us with their grace and their love. You cannot ask for anything better than this. My children cried when we left, and I felt at peace."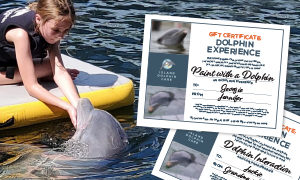 Give the gift of a Dolphin Experience Gift Certificate, or purchase a gift card for any amount!

Mon-Fri 8AM-5PM
Sat-Sun 10AM-4PM