THE STORY OF
JOE & FONZIE
The History of Island Dolphin Care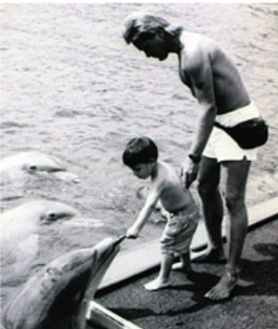 In 1990, Deena and Peter Hoagland brought their son Joe to swim with dolphins to encourage Joe to use the left side of his body, which had been weakened at the age of 3 during his third open-heart surgery by a stroke.
Joe quickly bonded with a dolphin named Fonzie. Joe's mother saw his enthusiasm toward Fonzie and started practicing therapeutic exercises where Joe would interact with Fonzie. Together, a powerful bond formed that would drive Joe to a full recovery.
"I can remember a time when I wanted to play with Fonzie and my mom said that if I wanted to feed him I had to use my left hand to motivate me to use it. I wanted to feed him so bad that I learned to use my left hand" – Joe Hoagland
Deena Hoagland, a licensed clinical social worker and teacher, thought that if dolphins could motivate and encourage her son, they could do the same for other families. Out of this experience, a unique form of animal-assisted therapy was created, and Island Dolphin Care incorporated in 1997 as a not-for-profit organization.
For over 20 years, the organization grew and helped thousands of families, veterans, and other individuals facing challenges.
IDC was forced to close programs due to the COVID-19 pandemic. Now, as Island Dolphin Care re-opens, we are returning to helping people with the same motivational programs so many have benefitted from in the past. Feeling renewed after a two-year pause, our teams are ready to improve our programs, animal care practices, and education approach to create a little more Joy in the world.
Although our founder, Deena, has retired, her vision remains intact. Her passion and commitment is reflected in every Island Dolphin Care team member and every dolphin…
Deena's purpose behind starting this mission also remains. Her son, Joe, is an Active Dolphin Trainer at IDC and continually reminds us all why we are here.

Fonzie was a great friend to me; he and I shared a lot of good times. He always put a smile on my face when I was feeling down. I will miss Fonzie a lot, but I will always remember the things that he taught me and he will be in my heart forever."

Mon. – Thurs.: 11:30am & 2:30pm
Fri. – Sun.: Call for times
Mon-Fri 8AM-5PM
Sat-Sun 10AM-4PM