THE STORY OF 
JOE & FONZIE

Fonzie was a great friend to me; he and I shared a lot of good times. He always put a smile on my face when I was feeling down. I will miss Fonzie a lot, but I will always remember the things that he taught me and he will be in my heart forever."
The History of 
Island Dolphin Care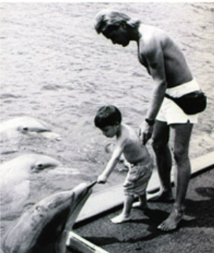 In 1990, Deena and Peter Hoagland brought their son Joe to swim with dolphins to encourage Joe to use the left side of his body, which had been weakened at the age of 3 during his third open-heart surgery by a stroke.
Joe quickly bonded with a dolphin named Fonzie. Joe's mother saw his enthusiasm toward Fonzie and started practicing therapeutic exercises where Joe would interact with Fonzie. Together, a powerful bond formed that would drive Joe to a full recovery.
Deena Hoagland, a licensed clinical social worker and teacher, thought that if dolphins could motivate and encourage her son, they could do the same for other families. Out of this experience, a unique form of animal-assisted therapy was created, and Island Dolphin Care incorporated in 1997 as a not-for-profit organization.

It was like you left all your cares of the world at the door and stepped into a zone where there was nothing but smiles and friendly faces (including the dolphins)."
Give the gift of a Dolphin Experience Gift Certificate, or purchase a gift card for any amount!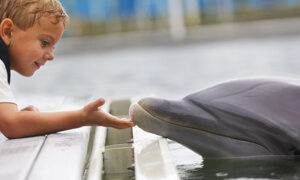 Support our dolphin family and our programs by making a donation.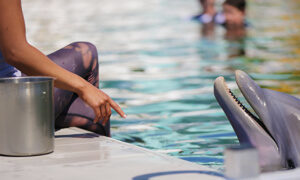 You can make a real positive impact just by leaving us a review.

Mon-Fri 8AM-5PM
Sat-Sun 10AM-4PM