Our Programs are so enjoyable that you will forget it's therapy… Guaranteed.
By combining traditional therapeutic methods with in-water, animal-assisted therapy, we design programs just for you and your family's needs. Our programs take place in the water with bottlenose dolphins and in our therapy rooms.
Read more about the therapy programs we offer, and reach out to learn more about how our program might work for you.
Every day will be life changing.
We will plan activities that address and coincide with your specific needs in an environment where therapy feels playful and full of fun.
The amount of time spent at IDC will be determined by the program created for you. Most families will be at the facility for two hours per day, and your time with us can be single or multiple days.
One of the principles of child development identified in the National Association for the Education of Young Children states, "Play is an important vehicle for developing self-regulation as well as for promoting language, cognition, and social competence." All of these areas of development are critical, and as with most skills in the early years, best learned through play.
What we can help you with
Socialization
Communication
Assistive technology
Sensory integration
Attention
Sibling relationships
Self esteem
Fine and gross motor skills
Group bonding
Guidance and resources
Suggestions for navigating everyday life
Confidence Building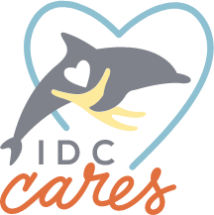 In order to provide programs to as many individuals and families that want to attend as possible, we depend on our generous supporters and donors. Please inquire about possible opportunities. Participants may apply for a scholarship and will be considered as funding becomes available.
Our therapy program facilitators help participants and their families living with developmental disabilities and a variety of health conditions. Our clients include veterans, children, adults, and families.
Our approach is positive and accepting – and the results occur simply because IT IS fun, in an environment satiated with kindness, joy, and stimulating or motivating activities with our dolphins, bringing purpose to their lives each day.
5-Day Therapy Program – $3,000
Assisted Swim – $250 per person
Assisted Experiences – $100-$180
Group Program – Contact for pricing
CUSTOMIZED PROGRAM FOR FAMILIES & INDIVIDUALS
We understand that there isn't any one way to approach therapy for those with special needs. We are happy to talk through and design the perfect experience for you and your family. We want anyone who needs help to learn from staff who have years of experience, compassion, and the skills you have needed and wanted to have a life-changing experience.
Seeing the need for alternative approaches and a form of therapy that stimulates joyous enthusiasm while providing the potential for growth and development, we have built a program that addresses and supports the challenges faced by those with autism and their families.
—
We replace challenges with heartfelt hopefulness by helping with:
· Self esteem, socialization, and communication
· Assisted technology, organization skills, and sensory integration
· Sibling relationships and peer support
· Guidance and resources
· Suggestions for navigating everyday life
—
Contact us, and let's get your visit to IDC started. It begins here.
IDC's PROGRAM FOR
DEVELOPMENTAL DISABILITIES
Just like you, our founders found themselves navigating the world of having a child with special needs. The therapy program they created at IDC for everyone brings hope and a new outlook for the journey ahead.
The experience is refreshing and full of new ideas, tools for everyday use, and inspiration for the entire family. While feeling challenged, you will feel the warmth and loving support of the staff and other families like you on similar journeys.
We will work together and show you step by step how you can continue and experience even more success once back at home.
Contact us, and let's get your visit to IDC started. It begins here.
22 veterans commit suicide each day.
That is why IDC is doing what we can to help.
Our veteran program acknowledges the needs of veterans and their families. We provide the safety needed to assist you in your journey to heal from PTSD, injuries, wounded dreams, relationships, depression, anxiety, and stress.
Our program is designed especially with these considerations in mind, and, at IDC, we are dedicated to helping Gold Start families, veterans, military personnel and their families. It can begin with us…
We provide opportunities for you to:
Take a moment to connect with loved ones

Find a reason to smile

Experience our dolphins
Reintegrate within the community

Solidify relationships with family

Come back home one step at a time

Find a day to day purpose

Embracing that a good life is possible

Redefine disability and ability

Help get you back on the path and journey you deserve and desire
CUSTOMIZED GROUP PROGRAMS
Our Group Therapy programs are designed for groups of families or organizations that include individuals who have special needs or illnesses.
Dolphin swim and therapeutic activity
Therapeutic play from the dock
Therapeutic activity session
Visit the touch tank
Enjoy a picnic lunch
Educational
Increase self-esteem
Fun community outing
Peer support
Family bonding
Past groups and organizations:
National organizations including Big Brothers Big Sisters, The American Cancer & Heart Associations and Make A Wish foundation

Local organizations including Nicklaus Children's Hospital, Jackson Memorial Hospital, Joe DiMaggio Hospital, Baptist Hospital, and The Miami Cancer Institute

Other groups such as Pediatric Patient camps, school groups, ESE classes, and clubs

Mon. – Thurs.: 11:30am & 2:30pm
Fri. – Sun.: Call for times
Mon-Fri 8AM-5PM
Sat-Sun 10AM-4PM