At our core, we aim to provide a place where families feel welcomed and comfortable from the moment they come through our doors. for those facing life's inexplicable challenges
participants to FIND MEANING in those challenges, while defining strengths in character
and tenacity necessary to move beyond daily obstacles
Planning for a Better Tomorrow Our dolphins live in an imperfect situation that we are actively
We provide our dolphin family with a
Our ultimate goal is to find a larger, more
where our dolphins can live their lives
The Island Dolphin Care Mission Statement To provide unique, animal-assisted (dolphin), therapeutic, motivational, and educational therapy programs to children, adults with special needs, and their families and caregivers. Through interactive programs, education, and research, participants are inspired to value and respect marine mammals and their environment.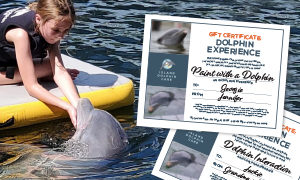 Give the gift of a Dolphin Experience Gift Certificate, or purchase a gift card for any amount!

Mon-Fri 8AM-5PM
Sat-Sun 10AM-4PM