We are committed to the future of our dolphins.
These animals are not our possessions.
We are aware that our dolphin family did not choose this life.
We give them the respect they inherently deserve and integrity they warrant. 
IDC was founded under the construct that dolphins should not be bought and sold as someone's personal property or asset. And unlike commercial entities, as a non-profit, IDC and its founders are not "owners."
The cost of our programs has not increased since our inception in 1997, and our fees are significantly lower than typical non-therapy swim programs, demonstrating that IDC is not a money-driven organization.
We believe our dolphins deserve even better
Our dolphins currently live in the warm ocean waters of Key Largo, Florida.
Our facility exceeds all of the current USDA requirements.
Our dolphins receive the most progressive practices in veterinary medicine. 
As we strive to constantly improve the quality of our dolphins' lives in all areas, IDC is actively seeking the necessary support to acquire a larger, more expansive habitat in a natural ocean setting, where their well-being can be taken to the highest possible standard.
We encourage and welcome all of your thoughts and ideas about how we can further improve the lives of these amazing animals while they are living in our care. Please reach out to join the conversation.
Life at Island Dolphin Care 
is all they know.
IDC is opposed to the capture of wild dolphins and any form of breaking up a family.
We practice a strict no-breeding policy.
It is our responsibility to give these creatures a life of purpose and of meaning. 
As idealistic as the idea of releasing dolphins may seem, having never lived in the wild, their chances of survival would be minimal. They are dependent upon us, and putting them at risk would be absolutely irresponsible with what we currently know. This is the situation, and seeing as we cannot undo the past, we are striving to make the best possible present and future.
We create a safe environment for our dolphins and guests by minimizing our volume of daily visitors. We do not offer public dolphin swims, and our organization does not raise money through dolphin shows or displays of animal-driven entertainment. 
Over 50% of our visiting families receive full scholarships, and no attending veterans have ever paid.
Birthday: THE MONTH OF MAY!
We decided that she deserves it.
Relationships: Mother to Fiji, Lotus, Tashi, and Dalai
Birthday: Unknown; permitted and acquired from a different facility
Relationships: Mother to Bella and Grace
Birthday: November 3, 2000
Relationships: Daughter of Sarah and Fonzie
Birthday: June 25, 2004
Relationships: Son of Squirt and Fonzie
Birthday: July 11, 2008
Relationships: Daughter of Sarah and LB
Birthday: August 27, 2008
Relationships: Daughter of Squirt and Bob
Birthday: August 13, 2012
Relationships: Son of Squirt and Bob
Birthday: September 2, 2014
Relationships: Daughter of Squirt and Bob
After Sarah's years of helping humans, doctors and veterinarians from around the globe teamed up to perform a groundbreaking procedure that changed her life forever.
Sarah received the first-ever airway expansion operation performed on a dolphin.
In 1997, our two "old ladies," Sarah and Squirt, were residing at a commercial facility, participating in public swim programs. The founders of IDC worked to acquire these animals with the intent to provide them with a very different kind of life.
Today, Sarah, Squirt, and their six children focus
100% on helping individuals with special needs of all sorts,
engaging not only in therapy, but also in educational programs and scientific research. 
No. Although some people think that dolphins are fish, because they live in the water, they are actually mammals. They nurse their young, they give live birth, they are warm blooded, and they are born with hair along their rostrum, which falls out shortly after birth.
Can dolphins from IDC be returned to the wild?
IDC will continue working actively to find the best possible situation for our dolphins to live within; however, up to now, the releasing of dolphins that have lived in captive environments is federally regulated. To do so with our current knowledge and resources would be irresponsible. Animals that have been raised away from the wild have never learned how to live as wild animals or developed the necessary instincts to face the volatile reality that nature presents.
How long do dolphins in human care live?
Dolphins in human care can live beyond 60 years old in quality care environments. The oldest known dolphin lived at Marineland, St. Augustine, Florida, while a study research in the Indian River Lagoon found that the average age of wild dolphins collected for a biological survey was 10 years of age. The causes of the early losses in nature are due to environmental stressors, diseases, water pollutants, absence of health care, and food availability. Many species are now living longer than expected in zoos and aquariums due to high-quality health care and behavior management.
If you have any questions about the care of our dolphins or our conservation efforts, we encourage you to contact us directly.

My daughter is nonverbal, has severe Autism, and struggles with OCD and anxiety. I cannot say enough about what this program has achieved, and the progress I see each year."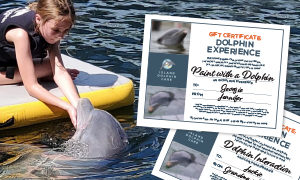 Give the gift of a Dolphin Experience Gift Certificate, or purchase a gift card for any amount!

Mon-Fri 8AM-5PM
Sat-Sun 10AM-4PM